Terri J. Vaughn talks new film.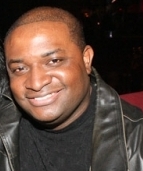 Blog King, Mass Appeal
NEW YORK – Acclaimed actress Terri J. Vaughn of "The Steve Harvey Show" and "Tyler Perry's Daddy's Little Girls" joined Mass Appeal's Wayne Hodges and KGGN 890's Reggie Brown on the radio airwaves on Aug. 15th to discuss urban theater (hear the Q&A through the media player below). Terri, who stars on "Tyler Perry's Meet the Browns," also spent a few minutes addressing sensitive issues tied to poverty, teen pregnancy and community awareness. In her latest project, Terri stars as Tiffany in Noel Calloway's inspirational new film "Life, Love, Soul" – a movie that tells the gripping story of seventeen-year-old honor student Roosevelt Jackson's struggle to regain control of his life after a devastating loss.
The movie will be released Aug. 27th on DVD. In the film, Terri plays the outspoken mother of Jackson's high school girlfriend and she doesn't bite her tongue. Listen to the podcast below.