Filmmaker Tyler Maddox Simms joins Mass Appeal.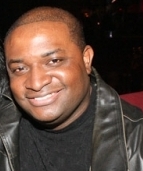 Blog King, Mass Appeal Wire Q&A
LOS ANGELES – On Friday (Sept. 13), Mass Appeal's Wayne Hodges and radio veteran Reggie Brown welcomed west coast filmmaker Tyler Maddox Simms on Kansas City radio station KGGN 890 AM to discuss her exciting new film "Power of Love" and future projects (hear the interview through the media player below). Tyler has taken a page from the other Tyler (Perry), and doing things her way. She's a female director with a special niche, creating a brand of home entertainment by producing Straight-to-DVD films with a focus on wholesome, family entertainment. Unlike most filmmakers, she doesn't fret about distribution because her titles can be found on the shelves of Wal-Mart stores throughout the country as well as Netflix, Redbox and VUDU. "I had to make my own breaks," said Tyler, a native of Euclid, Ohio.
"I'm very excited that I can offer a brand of wholesome entertainment that families can enjoy." She added, "As a female director, I'm certainly a minority in Hollywood's Boys Club, but I hope my creative pursuits will chip away at the glass ceiling or crack it wide open."