Too Short talks industry myths.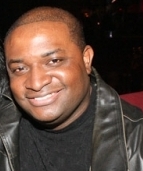 Blog King, Mass Appeal
OAKLAND — Recently, Mass Appeal's Wayne Hodges and radio phenom Reggie Brown welcomed veteran rap artist Too Short on Kansas City radio station KGGN 890AM to discuss Marvin Watkins' new DVD titled "Boss Status: How to Make Millions in the Music Business" – a 2-hour, in-depth tutorial that illuminates intricate ,aspects of the music business (listen to the Q&A through the media player below). The documentary features Too Short, Snoop Lion, Ice Cube, Timbaland, Fat Joe and several others.
Watkins' film is narrated by West Coast rap star Mack 10. "I began my career in the music industry," said co-producer and co-director Watkins. "One of the first things I learned was that this is a business, and if you want to be successful, you need to understand every aspect of it."
"I saw a lot of artists get caught up because they were not prepared, which alerted me to the need for a professional course," Watkins added. "My peers in the business were more than happy to share their insights and advice. As Ice Cube says on the DVD, 'the worse thing in the world is to be large and everybody's getting paid on you, but you.'"
To find out more about "Boss Status: How to Make Millions in the Music Business", to learn more about the hip hop artists who are participating, and to purchase the new DVD, simply CLICK HERE.