Marlon Wayans discusses movie.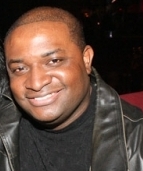 Blog King, Mass Appeal
KANSAS CITY, Mo. – Comic Marlon Wayans, 41, made a special tour stop in Kansas City on Friday (Mar. 14) to promote his hilarious sequel "A Haunted House 2" which is set for box office release on April 18. Marlon also hosted a prescreening at AMC Barrywoods 24 before taking questions from fans and media afterwards. Like the original film, Marlon's character (Malcolm) is again plagued by a series of paranormal events as he, his white wife and stepson look to get settled into their eldritch home.
#Google Shushed by Marlon Wayans A Haunted House 2 https://t.co/qNPwWezAi8

— VidGameFreedom (@VidGameFreedom) September 16, 2015
Mass Appeal's Wayne Hodges and Marlon sat down and discussed the film. They also talked about Marlon's comedic influences, his fascination with raunchy humor and the origin behind the deep and talented Wayans family. Here's what he had to say:
On getting parental support in comedy while growing up: My mom was the biggest hater. My mother was just like, 'I just want you to get a job with some benefits… the comedians ain't even got a union. You know what I'm saying? Your daddy ain't got no benefits. We're running from bill collectors.' But my mom and dad were natural buddy comedy. My dad's a Jehovah's witness, my mom's a Baptist. My father has his points of view on things and my mom disagrees with everything that he says. They just can't see eye-to-eye. He's annoying as hell. He annoys her. She cusses him out. Some of the funniest stuff you've ever heard. So we're watching this (growing up) and that's why we're comedians. We were all loved. Our parents loved us to death.

On his decision to cast a white woman as his girlfriend: There's so much interracial dating going on today… and I wanted to do a movie that represents everybody. My character Malcolm is married to a white woman and he's thinking things are going to be different (because she's white) but they're not.

On his fascination with horror spoofs and raunchy comedy: I love making fun of things that people take too seriously. In scary movies, you have tension, you have horror. But laughing is a good release. To me, good comedy comes from good characters. I was raised on 'Monty Python and the Holy Grail' and 'In Living Color.' Yes, I'm 41-years-old. But I've never grown past the age of 5 and I'll never grow past the age of 17. It's in my heart, it's in my spirit. I laugh at fart jokes with my kids. I'm not above that kind of silly humor. I'm a child at heart and, to this day, I just laugh at that type of stuff.
Again, Marlon's sequel "A Haunted House 2" will be released in theaters on April 18th. Join "A Haunted House 2" on Facebook by CLICKING HERE. Marlon and his brother Shawn Wayans are scheduled to perform standup comedy at the Kansas City Improv on April 25th.
See the trailer below & share your paranormal thoughts: