Wyllisa Bennett joins Mass Appeal Radio.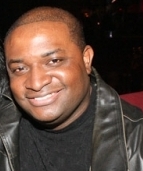 Blog King, Mass Appeal Wire Q&A
LOS ANGELES — On Wednesday (April 23), acclaimed celebrity publicist Wyllisa Bennett (pictured here with actor Laz Alonso) joined Mass Appeal's Wayne Hodges and radio phenom Reggie Brown on the "Reggie-N-Wayne Show" on Kansas City radio station KGGN 890AM to discuss what's sizzling hot on the 'Red Carpet' and the Topeka protest of first lady Michelle Obama (you can hear the spirited radio interview through the media player below). With more than 20 years of industry experience, Wyllisa has honed her journalistic skills as an award-winning writer, communicator and public relations practitioner. She's also a regular contributor to Mass Appeal News.
For the latest in Hollywood, visit WyllisaBennett.com.
A North Carolina native, Wyllisa relocated to Los Angeles in 2001, and continued her career as a writer and entertainment publicist. She founded WRB Public Relations, a boutique public relations agency that specializes in entertainment publicity (see Wyllisa's photo gallery below).
To find out the latest from Wyllisa, visit her "Red Carpet Rantings" at WyllisaBennett.com.