Brad James joins Mass Appeal Radio.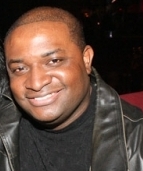 Blog King, Mass Appeal
On Wednesday, Jan. 14th, actor Brad James from Tyler Perry's television sitcom "For Better or Worse" joined Mass Appeal's Wayne Hodges and Reggie Brown on the REGGIE-N-WAYNE SHOW on Kansas City radio station KGGN 890 AM to discuss the emotional Atlanta-based film "Sons 2 The Grave" which is scheduled to hit movie theaters nationwide later this year. You can hear their conversation through the media player below. As for the film? After midnight, on a bridge that divides neighborhoods rather than link them, 18-year-old hoops star Marcus Jennings (Trevor Jackson) is murdered.
Marcus' friends, however, remain silent — giving power to the killer. Celebrity attracts both the good and bad. Sometimes it's not clearly defined. But, in the end, it's what everybody had in common that ultimately cost Marcus his life. That common denominator is FEAR!
The fear of staying, the fear of leaving and the fear of appearing weak.