Dance sensation Tamina Pollack-Paris joins Mass Appeal Radio.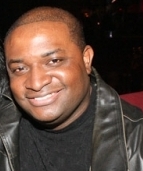 Blog King, Mass Appeal
TORONTO — Recently, internationally renowned choreographer Tamina Pollack-Paris joined Mass Appeal's Wayne Hodges and radio veteran Reggie Brown on the Reggie-N-Wayne Show on Kansas City radio station KGGN 890 AM (you can hear the broadcast through the media player below). Tamina, a Toronto native, has more than 16 years of professional dance experience. Her career credits include: So You Think You Can Dance, American Idol, X-Factor and Glee. Tamina has worked with Justin Bieber, Ke$ha, Rye Rye, Aloe Blacc, Years and Years and Keshia Chanté to name a few. She also toured with Grammy-winning artist Lady Gaga.
In an effort to give back to her community, Tamina formed THE GIRLS CLUB which is a distinguished conservatory geared towards the development and empowerment of young female performers. To catch a glimpse of Tamina's work, check out the dance video below: