Reality TV star Toi Troutman-Walker joined Reggie-N-Wayne on 890 AM.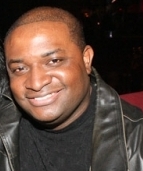 Blog King, Mass Appeal
Recently, reality TV star Toi Troutman-Walker of Bravo's "Newlyweds The First Year" joined Reggie Brown and Wayne Hodges on the Reggie-N-Wayne Show on Kansas City radio station KGGN 890 AM to discuss love, relationships and the challenge of living with Lupus. In case you didn't know, Toi's father and uncle were members of R&B group Zapp. You can hear the broadcast in full through the media player below.
Toi enjoyed her first date with hubby Rouvaun Walker in 1996.
But they went their separate ways. After a 15 year hiatus, they eventually reconnected on social media and it's been true love ever since. In addition to their outstanding work on Bravo, Toi owns a hair extension line — Renown Hair — and Rouvaun continues to excel in mortgage banking.
"Newlyweds The First Year" comes on every Tuesday night at 9:30 PM CST.
For more on Toi & Rouvaun, visit BravoTv.com.