NCIS: New Orleans actor Gralen Banks joined Ayanna and Wayne on 890 AM.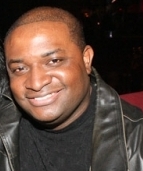 Blog King, Mass Appeal
NEW ORLEANS — Recently, veteran actor Gralen Banks joined Mass Appeal's Wayne Hodges and Ayanna Flowers on Kansas City radio station KGGN 890 AM to discuss his new movie Pitch Perfect 2. You can hear the broadcast in its entirety through the media player below. Gralen, who stars on the hit police drama NCIS: New Orleans, also talked about the aftermath of Hurricane Katrina and the recovery process. Gralen's film career began when he was featured in Spike Lee's award winning film, When the Levees Broke. Gralen has also appeared in over twenty films and television shows, including Killer Joe, American Horror House, HBO's Treme, Woman Thou Art Loosed, and Memphis Beat, to name a few.
In addition to TV shows and film, Gralen has been featured in two national commercials, one for VISA and the most recent being for Tony Cachere's Famous Creole Seasoning. Gralen's voice has also graced several radio campaigns, including an ongoing spot with the Louisiana Lottery, and many local and state wide political campaigns.
On May 15, the Bellas show the World what they've got! Get #PitchPerfect2 tix: http://t.co/ZZ75HFNQwN https://t.co/Wv3YOIbInL

— #PitchPerfect2 (@PitchPerfect) May 5, 2015