Jasmine Denham joins Reggie-N-Wayne to discuss her new song.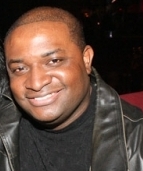 Blog King, Mass Appeal
TORONTO — Recently, Canadian singer and songwriter Jasmine Denham joined Mass Appeal's Wayne Hodges and radio veteran Reggie Brown on Kansas City radio station KGGN 890 AM to discuss "Together We Are One" — the official song of the 2015 Toronto Pan Am Games that was written by Jasmine, Murray Daigle and Bobby John. Jasmine also talked about her work with the Songwriters Association of Canada and her professional relationship with other Canadian artists.
Listen to the show through the media player below.
Jasmine, who performed the French version of "Together We Are One," is also a producer and vocal coach. She plans to release her first single in more than eight years this summer.
"Jasmine is the real deal," said fellow Canadian recording artist Nelly Furtado. "It is truly rare for vocal talent, songwriting prowess, stage preasance, intelligence and all out charm to come in beautiful package. Jasmine is a musical Renaissance woman that you'll never forget once you meet her."
For the latest on Jasmine, visit JasmineDenham.com.