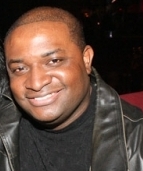 Mass Appeal Wire Reports
Mr. Lebron James flashes his penis.
CLEVELAND — Three balls received airtime Thursday night during ABC's live coverage of the NBA Finals. And two of them belonged to LeBron James. As he was adjusting himself below the waist during pregame festivities, ABC cameras zoomed in for a close-up and accidentally introduced King James' royal penis to approximately 19 million viewers. LeBron appeared to be opening up his shorts to clear a little room when the cameras zoomed in. King James, who ended up suffering a bloody gash on his head after colliding with a cameraman, played 41 minutes in Cleveland's disappointing 103-82 loss to Golden State.
#Breaking: LeBron James flashes penis again — see his GIANT bulge https://t.co/dabhPwxFmR pic.twitter.com/y84rxjTjFV

— HollywoodLife (@HollywoodLife) March 11, 2016
The good news? LeBron didn't suffer a concussion. But he had one hell of a headache. "Of course I have a headache," James said during a halftime interview with ESPN. The 4-time MVP finished with 20 points, 12 rebounds, 8 assists and one exposed penis.
Watch LeBron's nuts in the video below: