Laverne Cox to star in Fox remake of The Rocky Horror Picture Show.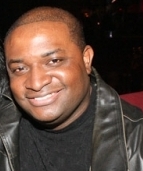 Mass Appeal Wire Reports
LOS ANGELES — Fox television is doing a remake of the 70s cult classic 'The Rocky Horror Picture Show' and network officials are casting renowned transgender actress Laverne Cox as the iconic Dr. Frank N. Furter (originally played by Tim Curry in 1975).  Laverne, who stars as Sophia on the popular Netflix series 'Orange is the New Black,' figures to bring an intriguing perspective as an LGBT advocate to the uncanny role of the "sweet transvestite from transexual Transylvania." The new telemovie will be produced, directed and choreographed by High School Musical's Kenny Ortega.
Tim Curry passed the Rocky Horror torch to @Lavernecox at the WeHo Halloween Festival: https://t.co/GNS2r8VZse pic.twitter.com/pXidUwwX4j

— Logo (@LogoTV) November 3, 2015
Jackal Group exec Gail Berman will also produce. The Rocky Horror Picture Show premiered as an original stage production in 1973 before hitting the silver screen in 1975. Due to its enormous cult following, the flick holds the all-time record for longest theatrical run.