Anthony Anderson bouncing back after divorce filing.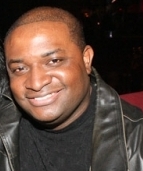 Mass Appeal Wire Reports
LOS ANGELES — While chillin' courtside, comedic actor Anthony Anderson and rap mogul Jay Z got a chance to see reigning MVP Steph Curry do his thing at the Golden State Warriors vs. Los Angeles Clippers game on Thursday at the Staples Center in Los Angeles. It was nice to see Anthony smiling on the sidelines. The "Black-ish" star is going through a divorce after 20 years of marriage. Anthony's wife Alvina filed the paperwork a couple months ago, citing irreconcilable differences as the marital detriment.
Black-ish Star Anthony Anderson's Wife Files for Divorce http://t.co/Jd4oaVH73K via @Sky1876ent pic.twitter.com/enuMmlUwJH

— ◢◤SKY MARKETING (@Sky1876ent) October 5, 2015
Anthony and Alvina have known each other for a very long time. The couple got hitched as high school sweethearts in 1995. They have two children together — son Nathan, 15 and daughter Kyra, 19. Alvina is asking the court for spousal support and joint legal custody.
In hindsight… we should've knew something was up when Alvina failed to accompany her husband to the 2015 Emmy Awards where he received nomination for 'Best Lead Actor in a Comedy.' A few days later, Alvina filed for divorce. They've been separated since April 2014.
In addition to his patriarchal role on Black-ish, Anderson also hosts a show on Food Network called "Carnival Cravings with Anthony Anderson." The 45-year-old thespian is also known for his roles on "Barbershop," "Transformers" and "Law & Order."