Jennifer Hudson pretty in pink in New York City.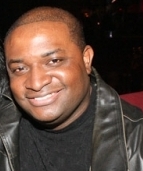 Mass Appeal Wire Reports
NEW YORK — Jennifer Hudson got snuggly with her cuddle buddy during a special appearance on Good Morning America on Tuesday. Decked out in a chic all-pink ensemble, Jennifer snuggled a tiny puppy while promoting her role in Broadway's The Color Purple. The Dream Girls star rocked a form-fitting, sleeveless pink dress coupled with a fuzzy pink jacket. She accessorized the outfit with a pair of diamond earrings. Jennifer was joined by her Color Purple co-star Cynthia Erivo who made a fashion statement of her own in a white, blazer dress with black buttons.
On Good Morning America this morning. We open in 16 days! !https://t.co/S3n92JH3mW. @BwayColorPurple

— Allee Willis (@AlleeWillis) November 24, 2015
Jennifer and Cynthia spoke with GMA host Robin Roberts about their unforgettable experience on Broadway. "I feel like I'm in theater school right now," Jennifer said. "I'm learning as much as I can, and I have been blessed to work with all of these beautiful people."
Based on the 1982 Pulitzer Prize-winning novel by Alice Walker, The Color Purple shows the early-20th century plight of African Americans in the racist south. Some of those issues are still relevant today. "I think that's why a movie like The Color Purple can transition to a play and still be here today, because it's reality," Jennifer said.
"It's what's real, and that's timeless."