Ice-T and Coco welcome newborn daughter Chanel.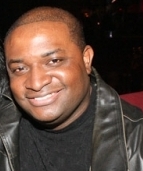 Mass Appeal Wire Reports
LOS ANGELES — Rap veteran Ice-T, 57, and wife Nicole "Coco" Austin, 36, are proud parents of a bouncy baby girl. The couple made the surprise announcement Saturday (Nov. 28) on Twitter. Her name is Chanel Nicole. Still no word on if she'll receive a beverage moniker like her parents. The nickname Vanilla Ice would've been perfect. But's it's already taken. Nevertheless, it didn't take long for the cuddly hip hop heiress to follow in mommy and daddy's footsteps. Chanel already has her own Twitter account and it goes by the handle @BabyChanelworld.
Ice-T and Coco welcome a new baby girl, Chanel Nicole https://t.co/msQKvyyBeS pic.twitter.com/zivT87xKZ6

— Global Grind (@GlobalGrind) November 29, 2015
In her first post, Chanel is pictured with a no-nonsense facial expression that reads: "Ok! I'm the newest on Twitter. What's crackin world!! No haters allowed…" Ice later tweeted a picture of Chanel sleeping with the caption: "I decided I'd be the Youngest girl with a Twitter page. What's up!! I'm ready to ROCK!"
Laugh if you want to, but Chanel already has more than a thousand followers and the subscriber list is growing. But she's only allowed to follow five accounts and they belong to her mom and dad, as well as Ice's two adult children from previous relationships.
Chanel was born premature and weighs 5.7 pounds.
Congrats Ice and Coco on your new bundle of joy!