Baby Creed shows love to Papa Creed.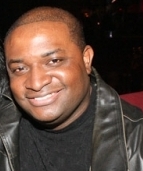 Blog King, Mass Appeal
BEVERLY HILLS — Like father, like son. On Thursday (Dec. 17) in Beverly Hills, Creed's Michael B. Jordan posed for photos with veteran actor Carl Weathers who played boxing legend Apollo Creed in the Rocky film franchise. Jordan portrayed Creed's son (Adonis), receiving rave reviews for his performance in the seventh release in the Rocky franchise. Jordan had some big shoes to fill and he delivered big-time. "You did well for the CREED name," tweeted Weathers.
"Congrats on [a] great job, my friend. May your success continue."
Was Michael B. Jordan in #Creed the most overlooked performance of the year? https://t.co/is7wyTrg2W pic.twitter.com/djJMTHdw7z

— VANITY FAIR (@VanityFair) December 16, 2015
Weathers attended Creed's Los Angeles premiere last month where he shook hands and posed for pics with Jordan and former Rocky co-star Sylvester Stallone. Weathers, if you recall, starred in the original four films from the late 1970s and early 1980s. He was killed in the ring during a bout with Russian heavyweight Ivan Drago in Rocky IV (1985).