Tyson accuses his ex-wife of cheating.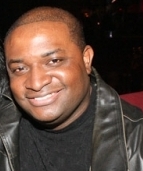 Mass Appeal Wire Reports
LOS ANGELES — Okay, this is ludicrous. Heavyweight boxing legend Mike Tyson made a recent appearance on "The Real," where he accused ex-wife Robin Givens of having an extramarital affair with actor Brad Pitt. Well, sort of. "I didn't really catch them in the act, maybe before the act," Mike explained to the five female panel of Tamera Mowry, Jeannie Mai, Adrienne Bailon, Loni Love and Tamar Braxton. "When I was driving before I go to my divorce lawyer, I decided to go by the house that we lived in."
Mike Tyson Shares the REAL Story on Robin Givens & Brad Pitt https://t.co/vmzHDvOTd9 pic.twitter.com/7qbWk1XUnH

— Mike Tyson (@MikeTyson) February 29, 2016
Mike continued, "Then I see nobody's there and, as I'm getting ready to leave to go to my car, there's a car that comes out. So when I saw the car come out, I thought maybe it was her or one of her girlfriends from the show. But it's not. It's a guy."
"Then I got mad and, of course, I'm jealous at that time. When the car came, she said 'Michael' and he didn't see me. Then he said 'Hey dude.' Anyway, we met each other and stuff. He was a really nice guy."
Mike has been awfully busy these days. On Tuesday, he goofed around with actor Donnie Yen at the Beijing premiere of his action film "Ip Man 3." In the movie, martial-arts master Ip Man (Yen) takes on a crooked developer (Tyson) and his gang of ruthless thugs.
Anyway, do you believe Mike?
Did Robin really cheat with Brad?
Share your thoughts below.