Tracy Morgan says he visited Heaven.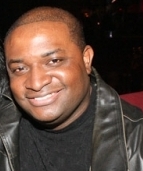 Mass Appeal Wire Reports
NEW YORK — Newlyweds Tracy Morgan and Megan Wollover hooked up with actor Ben Stiller and son Quinlin at Sunday's New York Knicks game at Madison Square Garden. During a recent sit down interview with Oprah Winfrey, the "30 Rock" comedian said he visited his late father, Jimmy Morgan Sr., in heaven while he was comatose following his near-death automobile accident in June 2014. "I was talking to my dad. He had this green thing on and I just remember him saying, 'I'm not ready for you, son,' and I started crying so hard," Tracy, 47, told Oprah.
Tracy Morgan To Appear On Super Soul Sunday with Oprah Winfrey https://t.co/24JJBsm8df pic.twitter.com/MVZUZIA7WI

— tracy morgan fans (@weare_MorganNow) March 16, 2016
"[He told me] I'm a fighter … I've got to get back to this little girl and my wife," Tracy added, referring to Megan and their 2-year-old daughter, Maven. "'Finish the job. That's my granddaughter,'" he added. "'Finish the job.'" Tracy suffered several serious injuries from the accident, which included broken bones and brain damage.
He's spent the past two years recovering.
Do you believe Tracy?
Did he really visit the other side?
Share your thoughts below.