Empire stars tie knot on an Island.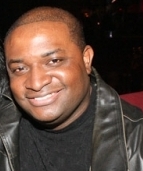 Mass Appeal Wire Reports
GRAND CAYMAN — Ladies, sorry to be the bearer of bad news. But Empire star Trai Byers is officially off the market. The Kansas City native tied the knot with sexy co-star Grace Gealey last Thursday (April 14) in a lavish mansion on Grand Cayman Island. "We're married!" Trai, 32, tweeted. "To all who've extended congrats, we thank you from the bottom of our hearts. Love, Mr. & Mrs. Byers." Trai and Grace exchanged vows in front of a cozy crowd of 50 tearful witnesses. "It was a beautiful wedding filled with family and close friends," said an inside source. "Some cast members from 'Empire' were there. Grace looked stunning."
Empire's Grace Gealey & Trai Byers are married! https://t.co/SpzuBfNihM pic.twitter.com/xaswFl4DkG

— E! News (@enews) April 19, 2016
After a few months of dating, Trai popped the question last July on Grace's 31st birthday. The happy couple met on the set of Empire, currently Fox's top-rated show. Grace plays the nefarious Anika "Boo Boo Kitty" Calhoun and Trai stars as Andre Lyon, the bipolar son of murderous patriarch Lucious Lyon.
Congrats Trai & Grace!