Chiefs legends take part in golf classic.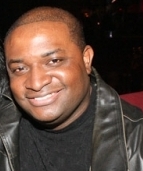 Mass Appeal Wire Reports
KANSAS CITY, Mo. — Tiger who? Yours truly got a chance to hit the greens on Monday (May 9) at Staley Farm's Country Club to shoot a few holes of golf in the Annual Celebrity Golf Classic, a fundraiser for Derrick Thomas and Neil Smith's 3rd and Long Foundation. Among those competing in the 4-man scramble were Kansas City Chiefs legends Eric Warfield, the aforementioned Smith, Eddie Kennison, Christian Okoye, Dante Hall, Marcus Spears and Shawn Barber. Thomas' mother, Edith Morgan, was also in attendance. Thomas and Smith, if you recall, established 3rd and Long in 1990 with a promise to "sack illiteracy" in the lives of urban children.
The Derrick Thomas / @NeilSmith_NFL #ThirdandLongFoundation Celebrity Golf Classic was a success! ⛳️? pic.twitter.com/Apk427hFAl

— Chiefs Cheerleaders (@ChiefsCheer) May 9, 2016
Thomas, who was inducted into the NFL Hall of Fame in 2009, overcame his own struggles as a youth to become one of the greatest linebackers in league history. Smith's road to the NFL was just as challenging. The former Nebraska All-American overcame dyslexia — a condition that hampers reading and learning skills — to become a two-time Super Bowl champion.
"I've always been the guy that wants to give back," Smith said.
"So long as I can get a chance to save one person… that's what it's all about."
See the photo gallery below.
For more on 3rd & Long, CLICK HERE!
Hodges takes a group photo with Neil Smith, Eric Warfield and Chiefs cheerleaders
During registration, Hodges takes a snapshot with Kansas City Chiefs cheerleaders
Eric Warfield takes a trot on the greens after delivering a blast on the fourth hole
Hodges shares a smile and a big hug with Edith Morgan, Derrick Thomas' mother
Eric Warfield finally catches up with DT's mom Edith Morgan and Madeline Meeks
Mass Appeal photographer Glenda and Hodges enjoy a selfie inside their golf cart
After making it look easy on the first 5 holes, Eric Warfield squares up his shot on the 6th
Former Chiefs lineman Marcus Spears shared a big hug with Madeline Meeks