Terrence Howard's wifey is pregnant.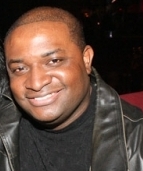 Mass Appeal Wire Reports
LOS ANGELES — Terrence Howard is upsizing his "Empire," despite his many glaring flaws as an absentee husband. The 47-year-old actor and his wife Mira Pak are expecting their second child. They had their first kid last May. Terrence, who portrays murderous patriarch Lucious Lyon on Fox's prime time musical drama, already has three children with his first wife, Lori McCommas. So this will make baby No. 5. Mira, 47, showed off her baby bump at an Empire event last Friday at the Zanuck Theater in Los Angeles.
Terrence Howard and Wife Mira Pak are Expecting a Second Child Together [Photos] https://t.co/wuGUl9k9C8 via @lovebscott

— B. Scott (@lovebscott) May 22, 2016
If you recall, the couple was reportedly headed towards a divorce in March 2015. But they've apparently had a change of heart. "We have an amazing connection. But, I mean, he's not perfect. Doesn't do the dishes. Doesn't cook. Doesn't lift a finger," Mira told Rolling Stone last year about their shaky marriage.
"I probably leave him 30 times a month. We don't have a normal life. In our two years together, I've only gone to restaurants with him two or three times. We've never been to the supermarket together. We've never been to the movies. I've never gotten a gift from him. Never, never."
Congrats Terrence and Mira… um… we think?