EJ Johnson may go transgender soon.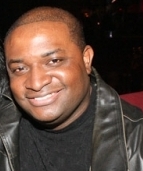 Mass Appeal Wire Reports
NEW YORK — EJ Johnson, the homosexual son of NBA legend Magic Johnson, came out the closet years ago. But after watching transgender pioneer Caitlyn Jenner take the world by storm, EJ contemplated a similar transition into womanhood. The 24-year-old reality TV star offered a confession to his therapist in a new episode of his E! docu-series EJNYC. "I just wanted to come in today because I think there's just a lot going on with gender right now in the world and I think so many things are changing," EJ said.
#EJNYC will heat up this season – especially TONIGHT.https://t.co/TQsrer68aX

— EJNYC (@EJNYC) June 22, 2016
"Sometimes it's hard being in the middle, kind of in the gray area in my own lane," he added. "Now, since everybody's talking about Caitlyn Jenner and being transgender, people are so quick to say, 'Oh just because you're dressing like that means that you're going to transition to become a woman.'"
EJ admits at times he questions his own gender identity. But, for now, he doesn't plan on going the transgender route. "I thought about it, for sure," he said. "I was just like, 'Well do I want to transition? Is this something that I would do?' But I don't feel incomplete in that way. I don't feel the need to do that."
EJNYC airs Wednesdays (8 p.m. CT) on E!
Should EJ follow in Caitlyn's footsteps?
Share your thoughts below.