Cedric still going strong in his 50s.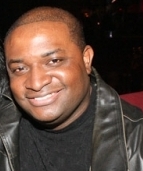 Mass Appeal Wire Reports
LOS ANGELES — Cedric the Entertainer hasn't gone public with who he plans to vote for [nor does he intend to]. But he certainly has no problem ribbing politicians publicly during his standup. "I kind of nibble around the edges of politics," said the Barbershop actor in a recent telephone interview from his Southern California residence. "I have some great [Hillary] Clinton jokes and great [Donald] Trump jokes." Before he became a household name, Cedric was a big fan of comedians Richard Pryor, Eddie Murphy, Robin Williams and Flip Wilson.
But he credits the late Bernie Mac for giving him the confidence to continue comedy after a rough stretch. Cedric recalled a time he got booed on stage and Bernie was there to convey reassurance, telling him that he's funny and to not "let these people whip you into thinking you're not good."
Had fun today impersonating Bill Clinton in a dialogue with @CedEntertainer and his President Obama. pic.twitter.com/nTLSvWfCmK

— Dave Osborn (@NDN_dosborn) July 22, 2016
The next night, Cedric grabbed the mic and kicked ass. "I went and got ready and the next two nights was on fire and that was it," he said. "That was the kind of experience, where Bernie would lift you up."
Cedric, 52, may be getting old. But he's still busy. The Missouri native is currently performing in the 'Comedy Get Down' tour with George Lopez. He's also about to begin working on "Johnson Family Vacation 2," a sequel to the 2004 comedy he made with Vanessa Williams and Steve Harvey. 
"It's good to still be doing it," Cedric said.
"This is fun."