Keyshawn's wife wants a divorce.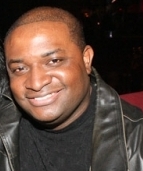 Mass Appeal Wire Reports
LOS ANGELES — Seems everybody's gettin the D-word these days. Like many of his peers, former NFL star Keyshawn Johnson is headed towards divorce court again… we think. That's because his inebriated wife — Jennifer Conrad — told TMZ she's sick of his sh*t and she's finally pulling the plug on their two year union. "Now you want the story," a drunken Jennifer told TMZ on Sunday night. "Because I'm Keyshawn Johnson's wife, soon to be ex-wife… because I file for court on Monday, now [you] want the story."
Details on Keyshawn Johnson's super-secret wedding http://t.co/NCpV3nOHw3 pic.twitter.com/1JlVDAwCcu

— TMZ (@TMZ) October 5, 2014
Jennifer, if you recall, originally filed for divorce roughly 7 months after the couple said "I do" back in 2014. Even though she had Keyshawn arrested on suspicion of domestic violence two years ago, Jennifer backed off the divorce filing with hopes of salvaging her rocky marriage.
At first, the reconciliation project worked.
Now they're back at each other's throats.
Keyshawn and Jennifer have two kids together.
Share your thoughts below.