Tamar Braxton and hubby got violent.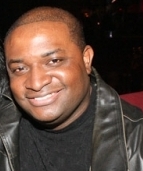 Mass Appeal Wire Reports
ATLANTA — First, she lost her job. Now, she's losing her husband. And, at the rate she's going, she's gonna end up losing a tooth. Tamar Braxton, former talk show host of 'The Real,' got into a physical altercation with her husband Vincent Herbert at the Ritz Carlton in Atlanta on Sunday. According to a close source, the couple got into an Ike and Tina-esque squabble before things turned painfully somatic. That's when Vince bit Tamar on her hand like a rabid dog, drawing blood in the process.
Tamar Braxton and Vince Herbert Involved in Domestic Violence Incident in Atlanta, Police Called to the Scene https://t.co/FEASa7qiX4

— B. Scott (@lovebscott) August 23, 2016
The 39-year-old TV personality eventually called police. But Vince fled the premises before officers arrived. Tamar was offered treatment by paramedics but she reportedly declined. The large gash on her hand, however, will require stitches. Sadly, fist fights between Tamar and Vince are regular.
Insiders say they box all the time.
But they do a good job of smiling in front of the camaras.
Is it time for Tamar and Vince to finally call it quits?
Share your thoughts below.