Bonita Money talks cannabis and more.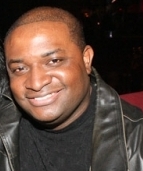 Blog King, Mass Appeal
LOS ANGELES — Lookin' to find out more about the cannabis industry? If so, we have a special treat. Actress-turned Cannapreneur Bonita "Bo" Money joined Wayne Hodges and Reggie Brown on the Reggie-N-Wayne Show to discuss the "green rush," that is the emerging marijuana business [listen to the interview below]. Bonita also talks about the healing powers of cannabis, which includes her creation "That Glass Jar ™"  –a cannabis-infused topical that heals many skin disorders — and her networking organization "Women Abuv Ground" which is dedicated to educating and empowering women of color in the cannabis industry.
Will Marijuana Legalization Benefit People of Color? https://t.co/nZRV22vASz via @laweekly @dennisromero Diversity in Cannabis #bomoney

— Bo Money (@bonitamoney) November 16, 2016
By providing resources and supporting women in the cannabis industry, "Women Abuv Ground" also creates a diversified culture that celebrates the brilliance of female entrepreneurs, business owners and community leaders. In addition to all things cannabis, Bonita has done big things in film.
She's known for Cradle 2 the Grave (2003), Silk Stalkings (1991) and Lambada (1990).
Are you aware of the medical benefits of marijuana?
Should it be legalized everywhere?
Listen to the interview below.
Share your thoughts.