Steven Marcano delivers 'Knockout.'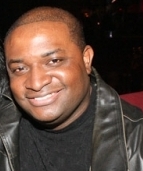 Blog King, Mass Appeal
NEW YORK — East coast mogul Steven Marcano, creator and executive producer of the hit reality television series "Knockout," joined Mass Appeal's Wayne Hodges and KPRT's Reggie Brown on Kansas City radio station 1590 AM recently to discuss what lies ahead for the top-rated boxing competition and his impending entrepreneurial endeavors (listen to the show below). Hosted by former world boxing champion Roy Jones Jr., "Knockout" chronicles the daily challenges of nine professional fighters who sacrifice blood, sweat and tears while competing in different weight classes.
Congrats Darnell Sutton, Roy Jones Jr., Andrew Ruf &Steven Marcano!! KNOCKOUT 3 filming in August! @mlsmylilstar pic.twitter.com/0mXrG78tpN

— SABRINA LOTT (@bmbpublicity) July 14, 2016
Floyd Mayweather, Sr. and "Sugar" Shane Mosley are among the big names to serve as trainers on the show. Marcano, who's made millions as the founder and CEO of Lil Star Baby Products, just struck a major network deal for "Knockout" and he plans to disclose details within the next couple of weeks.
To listen to the show in its entirety, click play below.