Idris Elba won his kickboxing debut.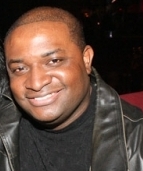 Mass Appeal Wire Reports
LONDON — When it comes to art and entertainment, English heartthrob Idris Elba has the female fan base all sewed up and he may have gained a few male supporters as well after coming out triumphant in his solid debut as a pro kickboxer. Yes, you heard me right. I didn't stutter. Idris has morphed his talents from the big screen to the boxing ring. He's now an aspiring kickboxer… and a damn good one at that. The 44-year-old actor channeled his inner Jean-Claude Van Damme on Friday night, winning his first bout inside London's York Hall.
Luckily for us, popstar Madonna sat ringside to record the video. Idris, by the way, is training to become a martial arts fighter for an upcoming Discovery documentary series. So he isn't, by any means, giving up acting. When watching the footage, you can tell Idris put in a lot of work to refine his technique.
Looking as chiseled as ever, "The Wire" star landed an assortment of quality leg kicks and counter punches to the face that eventually took their toll on his opponent. He ultimately walked away with the decision. After the event, Idris was spotted exchanging kisses with Madonna at a London restaurant.
"There was nothing subtle about it, no attempt to hide. It was very blatant," said an inside source.
"They were at the party for about an hour, they would dance, go off to smooch, then mingle a bit more."
"They only had eyes for each other. That seemed very clear."
As previously mentioned, Idris has the female fan market all sewed up.
Won't be long before he has the boxing ring sewed up too.
Share your thoughts below.