Badgers star livid over Obama noose.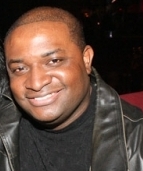 Mass Appeal Wire Reports
MADISON — After a Wisconsin Badger fan found it facetious to don a President Barack Obama costume with a noose tied around his neck, Wisconsin basketball senior Nigel Hayes decided to pull a Colin Kaepernick by taking a stand against racism by posting a rambling missive on Twitter. The incident happened at a football game on Oct. 29th. "Many people believe that student-athletes of color are immune to the racial injustices that affect other students of color on campus," Hayes wrote.
"However, our experiences are not shielded by the 'W' we wear on our chest, our experiences are one in the same. We are loved during competition, but then subjected to racial discrimination in our everyday lives too."
"It is painful that someone in our community would show up to an athletic event with a mask of our sitting president, who happens to look a lot like us, with a noose around his neck," Hayes added. "That moment was like a punch in the face to not only student-athletes of color, but also current students, faculty, and alumni of color."
#news Wisconsin Student Athlete Nigel Hayes Posted Powerful Letter About Racism On Campus https://t.co/Ygr7VCKxKp …#Wisconsin pic.twitter.com/BX67pu7Tn7

— MusicLifeSocial (@MusicLifeSocial) November 8, 2016
Look, America is a free country. If you want to demonstrate, fine. But, as a society, we need more. Much, much more. Hayes' rant is nothing new. African-Americans have been raising awareness to racial injustice for centuries with diminutive success because corrective measures never ensued.
Even though Hayes has good intentions, it's imperative his actions speak louder than words for his corroboration to stick. Otherwise, he'll look like a complainer just like everyone else. Keep in mind, the Wisconsin fan didn't break the law. The gimmick was obviously done in poor taste.
But it's certainly not a crime to portray a noose-wearing president.
School administrators called the racist outfit "an exercise of the individual's right to free speech."
If America was really serious about extirpating this type of ethnological inanity, politicians would simply enact the litigation process to lay such idiocy to bed. After all, nobody wants to go to jail. But it'll take more than a Twitter polemic or football stars kneeling during the national anthem to make it happen.
Share your thoughts below.