Pam Grier returns for movie launch.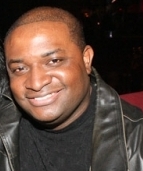 Mass Appeal Wire Reports
LOS ANGELES — Just when you thought Foxy Brown had retired for good, actress Pam Grier is back to launch Bounce TV's new video streaming service 'Brown Sugar,' which showcases a compendium of iconic black films. If you dig 70s arts and entertainment, you're in for a very special treat. "It was a movement," Pam, 67, said of filmmaking in her era. "Characters like Foxy and Coffy showed how a woman could be a lady and still be able to defend herself."
"We were trying to be expressive and progressive."
Watch @rickyrozay , @PamGrier​ & #FredWilliamson​ team up to tell the world about the #BrownSugar app. Can you dig it? pic.twitter.com/72oNm2tHSF

— Bounce TV (@bouncetv) November 17, 2016
Being expressive and progressive certainly worked. But what about sexy? "I was part of Gloria Steinem's woman's movement that said don't be sexy for others, be sexy for yourself," Pam said. "A woman's body is not a mystery. Own your sexuality!" When asked to gauge her level of excitement, Pam replied:
"I can't begin to tell you how excited! People can revisit or be introduced to my work all over again. And not just me, some of my best friends like Eddie Murphy, you can see his films like Harlem Nights. Or those actors who aren't here any more like Eartha Kitt. It's a phenomenal thing."
Share your thoughts below.