John and Chrissy joke with Fallon.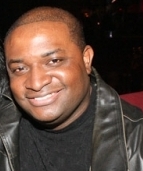 Mass Appeal Wire Reports
NEW YORK CITY — Arguably Hollywood's dreamiest couple, singer John Legend and supermodel wife Chrissy Teigen participated in a game of charades with talk show phenom Jimmy Fallon and comic Chelsea Handler on 'The Tonight Show' on Friday and they were absolutely off the chain. John and Chrissy, parents to 8-month-old daughter Luna, got off to a good start before a wardrobe malfunction stole the show. As John acted out a scene from 'The Little Mermaid,' Chrissy put his ass on blast.
Watch Chrissy Teigen and John Legend play charades with Jimmy Fallon and Chelsea Handler: https://t.co/e8dAk8nQYk pic.twitter.com/FnoXln3qcn

— Us Weekly (@usweekly) December 4, 2016
"Your fly is unzipped, first of all," Chrissy interrupted before running over to rectify the problem. "And you're yelling 'little!'" Jimmy joked, referring to John's exposed package. "No, that's not little!" Chrissy replied. Moments later, Jimmy had trouble coming up with the correct answer to Chelsea's 'Singin' in the Rain' pantomime to which the Netflix comedian took offense.
"Oh, my God! Are you serious right now?" Chelsea yelled.
"Everyone here knows it!"
When all was said and done, John and Chrissy won.
Watch their performance.
Share your thoughts below.