Ricky Harris' kin assaulted Snoop.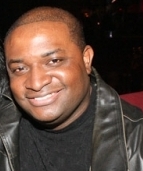 Mass Appeal Wire Reports
LONG BEACH — Everybody's still talking about the big skirmish that took place at comedian Ricky Harris' funeral in Long Beach, Calif. Harris, 51, died from a heart attack the day after Christmas (Dec. 26). During the memorial service, word on the street claims a relative of Harris confronted rapper Snoop Dogg, sparking a massive melee. The man reportedly told Snoop, 'you have a lot of nerve being here.' Seconds later, all hell broke loose. "It's very unfortunate for his family, for his mother and daughters, that a situation like this should break out especially since the ceremony was so touching and so funny, and great," said Comedienne Luenell who attended the ceremony.
Now video footage shows the attempted fight involving Snoop Dogg at Ricky Harris' funeral https://t.co/nEYa5owTcM

— XXL Magazine (@XXL) January 4, 2017
"A guy came right in front of the aisles that we were sitting in and started shouting some obscenities to Snoop," Luenell continued. "Anyway, people came to subdue him and then he started scuffling and it just grew into a really large brawl."
Fortunately, nobody was seriously hurt.
Watch the fight.
Share your thoughts below.