Crazed Cop killer finally in custody.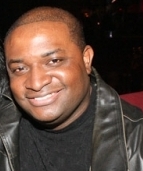 Mass Appeal Wire Reports
ORLANDO — Is there a lawyer in the house? Markeith Loyd, the ruthless villain suspected of murdering his pregnant ex-girlfriend and Orlando police sergeant Debra Clayton, has been captured and he remains in police custody. Loyd, 41, was busted Tuesday night at an abandoned house in Orlando, Florida. When SWAT officers found him, he was wearing body armor and armed with a pair of handguns. By the time media arrived, Loyd appeared to have gotten his ass kicked.
Here's what Markeith Loyd looks like now. @WFTV pic.twitter.com/tNOosaGq2T

— Daralene Jones (@DJonesWFTV) January 18, 2017
The arrest brings closure to a week-long manhunt since Loyd allegedly shot Sgt. Clayton in a Wal-Mart parking lot. Police Chief John Mina shot down rumors that Loyd's capture was the result of receiving an anonymous tip. Instead, he gave total credit to law enforcement officers working the case.
"They've basically been living in their vehicles, using the bathroom in their vehicles, to try and do everything they could to bring justice for the Dixon family and for the Clayton family," Mina said.
If convicted, does Loyd deserve the death penalty?
Share your thoughts below.