Facebook killer blames girlfriend.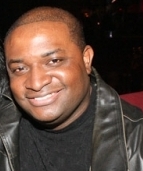 Mass Appeal Wire Reports
CLEVELAND — Facebook killer Steve Stephens lost his damn mind… over a woman. Now he's dead. After being charged with the brutal shooting death of 74-year-old Robert Godwin, Stephens killed himself during a police pursuit. The horror began on Easter Sunday in Cleveland. That's when Stephens, 37, approached Godwin on the street and asked him to say his girlfriend's name, Joy Lane. After Godwin denied having any knowledge of Lane, Stephens pulled out a gun and shot him dead. He even had the audacity to record the murder before uploading the video to Facebook. Stephens called Lane a "bitch" who "drove him crazy."
He also blamed his mother for ignoring him.
PLEASE RESPECT HER WISHES! Steve Stephens Ex-Girlfriend Joy Lane Responds To Horrific Tragedy! https://t.co/kW9EGip6ks pic.twitter.com/seF3VPb9Ia

— 🎙Wayne Dupree (@WayneDupreeShow) April 17, 2017
"We had been in a relationship for several years. I am sorry that all of this has happened," Lane wrote in a text to CBS News. "My heart & prayers goes out to the family members of the victim(s). Steve really is a nice guy… he is generous with everyone he knows. He was kind and loving to me and my children."
"This is a very difficult time for me and my family."
In a separate video, Stephens claimed to have murdered more than a dozen innocent victims. He also said he's going to continue to kill because he's mad at Lane. Cleveland police chief Calvin Williams offered a $50,000 reward for any information leading to Stephens' arrest.
The reward, however, is no longer necessary.
Stephens took his own life.
His vehicle was spotted at a McDonald's drive-thru in Pennsylvania.
Stephens' last meal included 20 Chicken McNuggets.
Watch graphic footage below (Warning! Viewer discretion advised).
Share your thoughts.