Daniels celebration riveting success.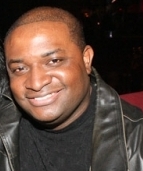 Mass Appeal Wire Reports
KANSAS CITY, Kan. — To parrot R&B songstress Mary J. Blige, it's was certainly a "family affair" at the inaugural 'Ethel & Nathan Daniels Legacy Celebration' where hugs, kisses and barbecue were dispersed in abundance. The holiday soiree, attended by dozens throughout the United States, was held Fourth of July weekend (Saturday, July 1, 2017) at Eisenhower recreation center in Kansas City, Kan. As anticipated, the familial phenomenon succeeded in consolidating multiple generations, with many traveling in from Denver, St. Louis, Wichita, Las Vegas and Los Angeles.
As a matter of fact, the celebration was such a hit, family members plan to schedule a commemoration every year. "Everybody who responded online, turned out," said granddaughter Sarah Davis-Wright, who moderated the ceremony. She also helped update the legacy page on Facebook.
"This is an event that started in 30 days," Davis-Wright continued. "It convinced us that with God, everything is possible. All of the family coming together, brought back a unity that we haven't experienced in 15 years. Responses are still coming in on how this reunion served as a reminder of how important family is. I'm just so thankful that everybody pulled together to make this event memorable. Special thanks to Barbara Logan, Nadine Love and Marceline Crawford (who created the Facebook page) for their collaboration in making this event special." In addition to digesting a plethora of smoked ribs and potato salad, family members were treated to a series of impassioned speeches and impromptu testimonials. Great grandson Anthony Hodges, who's experienced his fair share of ups and downs, clamored the significance of keeping family together.
"We need to keep this thing going," he said during his emotional address to family members. "We have doctors, teachers and lawyers in this family. Let's start leaning on each other."
To parrot R&B songstress Mary J. Blige, it's was certainly a "family affair" at the inaugural 'Ethel & Nathan… https://t.co/fK61IQjIVj

— Mass Appeal News (@Wayne_Hodges) July 4, 2017
As previously mentioned by Davis-Wright, the legacy celebration was concocted within a month. Now imagine what's gonna take place at the next function when family members will be awarded 12 months to prepare? That said, the initial chapter of the Daniels' Legacy Celebration couldn't have fared any better.
"I thought it was amazing," said granddaughter Barbara Logan.
"It was so inspirational to see our family come together from all walks of life, putting our differences aside, to celebrate this legacy. But the thing that stands out most to me is God. Because he brought us together to be united in purpose and, most of all, to display his love.
"For some of us, we were healed. My mother has been gone since 2006. In my heart, I believe I've released her. But in my spirit, I haven't. Through his grace, God let me know it's okay to let her go. That's what's so special about the reunion. It was God in every way.
"I saw marvelous things happening. It wasn't about food and other things. It was about restoring love and keeping this legacy alive. Hope must be continued. Keep praying. Love ye one another as Christ says he loves us. Because family does matter."
The next legacy celebration is tentatively scheduled for Los Angeles next year (2018).
We're certainly looking forward to an encore.
Check out the photo gallery below.
Share your thoughts.