Cedd the Light's suicide alarming.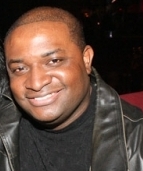 Mass Appeal Wire Reports
KANSAS CITY – The world has lost a beloved guitarist. In a shocking development, Kansas City musician Ceddrick Newsome — better known to his fans as Cedd the Light — reportedly took his own life Friday night. He was 34. During his darkest hour, a source claims Cedd sent a suicidal photo to family and friends that shows him firing a single gunshot into his own mouth. The songwriter was eventually transported to an area hospital where he was pronounced dead. There's still no word on a motive. After serving several years in prison for murder, Cedd discovered both clemency and redemption through his expansive orbit of musical gifts.
Shout out to Cedd the Light for the awesome music at #SaveTheSafetyNet 🎶🎶🎶

— Indivisible KC-MO6 (@indivisiblemo6) August 30, 2017
The "Open" singer, if you recall, was invited to perform at Kansas City Mayor Sly James' inauguration. He's also the season two winner of 'Song Stage' — a trendy talent competition in Kansas City. "It has not always been an easy life, but music has made it a good life," Cedd explained.
"I have always been happiest when music was around me."
Cedd leaves behind his gravid wife.
He will be missed.