Kansas City lawyers host new TV show.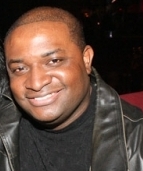 Mass Appeal Wire Reports
KANSAS CITY — They're not your ordinary judges. As a matter of fact, they're not judges at all. But Kansas City attorneys Keith and Dana Cutler — a happily married couple of 28 years — are celebrity hosts of a syndicated TV program called 'Couples Court With the Cutlers.' Even though the Atlanta natives have a law firm in Kansas City, the show (which debuted a couple weeks ago) is being recorded at Georgia Public Broadcasting in Midtown Atlanta. As you'd probably expect, the show focuses on a myriad of sensitive topics relative to infidelity and community property. Donning judge's garb, Keith and Dana sit side by side to assess each matter.
Former Atlantans the Cutlers have new judge show on CW69 'Couples Court With the Cutlers' https://t.co/0AmAG9vAbC

— Couples Court TV (@CouplesCourt_TV) September 19, 2017
"I think the second or third episode we taped, it was very sobering because the emotions were so raw," Dana said during an interview earlier this Summer. "These really are people's lives These really are people's feelings. We have to be respectful of that… It can be very charged at times."
Are you a fan of the show?
Do you think it will last?
Share your thoughts below.