Ced the Entertainer signs big CBS deal.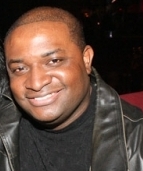 Mass Appeal Wire Reports
NEW YORK — This old dog knows new tricks. That's because big things are in store for corpulent comic Cedric the Entertainer who recently signed a lucrative development contract with CBS television studios. Reminiscent of CBS' 3-for-1 deal, the contractual arrangement guarantees the concoction of multiple TV scripts for Cedric with the intent of one receiving a pilot order. Cedric's first conception is a multi-camera firestation comedy titled "Ladder 54."
CBS developing LADDER 54 firehouse comedy starring and exec-produced by Cedric the Entertainer https://t.co/yvVFgChzNg #TV

— Charles Trotter (@charlestrotter) September 29, 2017
While being stuck working long shifts, a group of firefighters are forced to cope with each other's issues amid the possibility that at any moment they could be putting their lives on the line. Cedric will star as the team's devoted captain. The 53-year-old comic is also set to star on the TBS comedy series "The Last O.G." alongside Tracy Morgan.
Share your thoughts below.