Smith and Ayer reunite via Netflix.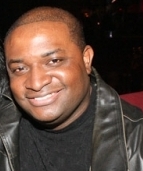 Mass Appeal Wire Reports
HOLLYWOOD — Can't we all just get along? Veteran entertainer Will Smith and director David Ayer have joined forces once again, this time via Netflix in the action-packed thriller "Bright" — a cinematic deal worth approximately $90 million. Ayer, by the way, famously directed the critically-acclaimed DC Comics film "Suicide Squad" starring Smith as Deadshot. Bright is equally uncanny. For starters, Ayer's conception is set in a parallel universe where earth is cohabited by humans and goblin-like creatures called Orcs.
Smith plays a cop who does everything within his power to shield the monsters from a racist society. That's not a misprint. Smith, who's African-American, tries to protect a bunch of Orcs from day-to-day discrimination. Yes, it's a parallel universe indeed. "Just because they look different does not mean anybody is better or worse than anybody," Smith's character explains to his inquisitive daughter.
I've just posted a new blog: Bright – (2017) සිංහල උපසිරස සමග චිත්‍රපටය

Bright is a 2017 American urban fantasy crime film directed by David Ayer and written by Max Landis. The film stars Will Smith as a Los Angeles Police Department police officer who … https://t.co/QnSDINfTn8

— Sinhala Movie Club (@Sinhalamclub) March 18, 2018
Joining the 49-year-old Smith on screen are actor Joel Edgerton (who stars alongside Smith as an Orc police officer) and Swedish actress Noomi Rapace. Smith isn't the only A-list talent going the Netflix route. If you recall, Brad Pitt starred in War Machine earlier this year.
Ayer, of course, continues to stay busy. He's reportedly working on a spin-off of Suicide Squad titled "Gotham City Sirens" starring Margot Robbie reprising her peculiar role of Harley Quinn.
Are you glad to see Smith and Ayer working together again?
Share your thoughts below.