Terry Crews went through pure hell.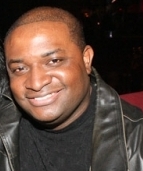 Mass Appeal Wire Reports
LOS ANGELES — Here's a rags to riches story for your ass. After a lackluster NFL career, muscle-bound thespian Terry Crews was reduced to sweeping floors in a factory just to make ends meet. No kidding. Crews, 49, was broke as a joke until receiving his first big acting gig in Ice Cube's "Friday After Next" in 2002. Since then, Crews has become the face of Old Spice commercials, he starred alongside Sylvester Stallone in the action film "The Expendables" and he excelled in a comedic role in the hit TV series "Brooklyn Nine-Nine." If you recall, Crews accused a male Hollywood executive of groping him at a party in 2016.
How Terry Crews went from sweeping floors after quitting the NFL to becoming a transcendent pitchman and huge TV star https://t.co/s0aCRqCRlF pic.twitter.com/Nyshuq5V5Q

— Jason Guerrasio (@JasonGuerrasio) January 18, 2018
But his improbable rise to stardom is a narrative within itself. "It was a big shock to me," Crews said about not achieving immediate fame in entertainment following a substandard pro football career. "I moved to Los Angeles thinking that because I was a football player, I was going to get a lot of big opportunities. They didn't even have a football team then, nobody cared!"
Crews swept floors for roughly a year before finally breaking through in entertainment. "I realized I had to start all over again," he said. "I gotta sweep these floors and make sure they are clean but I also felt like I was doing something about the situation. It was a gut check."
Are you a fan of Crews?
Share your thoughts below.