Mr. Trump thanks Kanye in speech.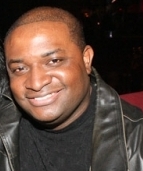 Mass Appeal Wire Reports
LOS ANGELES — Damn. What's up with our boy Kanye West? First, the 40-year-old rapper had the audacity to proclaim "slavery was a choice." Then he insinuated black-on-black crime is generally accepted by society. Then he claimed Donald Trump is a staunch advocate of black opulence. Now the president is reaping statistical perquisites while returning the favor. Whew! Get all of that? Anyway, President Trump gave Kanye a shout-out during his speech at the NRA Convention, thanking the embattled hip hop artist for giving him a boost in the national polls with African-Americans. That's not a misprint. Since Kanye's infamous 'slavery' rant on TMZ, a recent Reuters poll shows more than 22 percent of black males approve Trump's performance, doubling the 11 percent he received in a previous poll.
Now that's progress.
Thanks Yeezus!
Still no word on how black women feel.
Kanye West calls slavery a "choice" & reveals he had an opioid addiction after liposuction during TMZ interview https://t.co/jxVhB25d3X pic.twitter.com/P3gQ6wJGj1

— billboard (@billboard) May 1, 2018
Kanye, however, blamed the controversial tirade on his refusal to take medication. He also referred to slavery as a metaphor in a recent Twitter post. "The reason why I brought up the 400 years [of slavery] point is because we can't be mentally imprisoned for another 400 years," Kanye tweeted. "We need free thought now. Even the [slavery] statement was an example of free thought … It was just an idea."
Hmm… interesting.
Look, Kanye's life is a little convoluted. Word on the street claims he's battling drug addiction and he's on the brink of divorce. That said, do you agree with his logic? Are you indeed a victim of mental slavery? Do African-Americans tend to get more upset when a white person kills another black?
Share your thoughts below.
Inquiring minds wanna know.