Fatal Attraction, Racism and Hooters' Bone-in Wild Wings.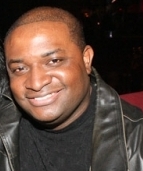 Blog King TGIF Report
KANSAS CITY — "This is how we do it. It's Friday night, and I feel alright. The party's here on my site. So I reach for my 40 and I turn it up. Designated driver take the keys to my truck. Hit the club cause I'm faded. Honeys in the street sayin, 'Blog King you made it!'" What's up homies and homettes? It's the unclonable Blog King here to disseminate that catchy Freaky Friday mantra. Are you ready? On your mark… Get set… GO! "TGIF, TGIF, TGIF!!!" Right on. As customary, Mass Appeal headlines are caliente' hot. So let's get the party started. Fatal Attraction 2018: Speaking of caliente'…here's another reason to eschew dating websites. What started as an amorous cyber affair resulted in a stalking nightmare that would make Glenn Close blush. Here's what went down: A man in Arizona met 31-year-old Jacqueline Claire Ades courtesy of an online dating service that eventually led to courtship.
So far, so good.
After a fun night of wine and dine, Jacqueline began texting the poor fella constantly — sending him more than 65,000 text messages total. Hell, sometimes she sent 500 a day. To compound matters, some of the transmissions are minatory. The deranged damsel said she would like to take a bath in his blood.
Damn!
Now that's love for your ass.
Speaking from experience, I can certainly relate to homeboy's agitation. See.. back in the day, I romanced an unhinged chick in a nightclub then refused to answer her phone calls. Roughly 24 hours later, she proceeded to emanate hundreds of menacing text messages.
She also vowed to derail my life and career.
The entire ordeal ventured so far left, it's the first time I seriously contemplated discharging a 9mm at a lady. Look, the playa's handbook says men aren't supposed to put their hands on women. But it doesn't say you can't shoot one. In all seriousness, be strong dawg and watch your pets. Eventually, she'll meet another sucker and leave you alone (we hope).
Moving on…
Blog King Alert: Terrence J. Skeen, the Kansas City firefighter accused of using a racial slur and spitting at a little black kid at Hooters, was… https://t.co/D3VR110R8e

— Mass Appeal News (@Wayne_Hodges) May 10, 2018
Hooters N-Word Update: Terrence J. Skeen, the Kansas City firefighter accused of using a racial slur and spitting at a 3-year-old black kid in Hooters, was found not guilty on Wednesday in Johnson County Municipal Court. And get this: He will also keep his job. Damn, that's cold.
Skeen, if you recall, was charged with battery, disorderly conduct and assault. Witnesses said Skeen called the child a "n*gger" before expectorating in the toddler's direction. The child's family went bonkers, forcing employees to call the cops before anybody got hurt.
Not sure if justice was served.
But, case closed.
That's it for now.
The social media sorcerer has to go.
Share your thoughts below.
Blog King is out!