Blog King's cool nightclub recap.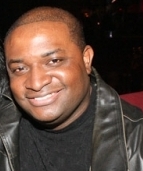 Mass Appeal Wire Reports
OVERLAND PARK — Intoxicants, pop music and graduation ceremonies laid the infrastructure for what turned out to be a prodigious Mother's Day weekend at Touche Nightclub in Overland Park. Hate if you want. But, on Saturday (May 12th), Blog King savored the infrequent privilege of treating a trio of thrill seeking mothers to an intriguing night of amusement and dance — making America's coolest transcriber the envy of practically every patron in attendance. On the real son, my swag was so majestic, two white guys pulled me over to ask "how did you do it?" My rejoinder was terse, yet compendious: "Because I'm Blog King, homie! Women love journalists. That's how I roll, ya dig?"
In all seriousness, here's a trifecta of highlights stemming from Saturday's holiday jamboree: 1) Blog King's choreography was nothing short of spectacular. 2) The youngest mom suffered a broken high heel while gyrating with the King. And 3), our red-headed waitress was once again incredible.
Did you party Mother's Day weekend?
Are you a rabid fan of Touche?
Share your thoughts below.
Speaking of mothers… 39-year-old Taheerah Ahmad is on the run from Oklahoma police after the psychotic damsel inexplicably duct-taped the hands of her 3 daughters, stabbing the eldest repeatedly, before setting their house on fire. Police believe Taheerah has the youngest child (age 7) with her. The aforementioned eldest (age 11) remains hospitalized in critical condition. The middle child (age 9) appears to be okay. If you have any info, call 911 pronto. An Amber Alert has already been issued.
One last item of note…
Teachable moment? 10-year-old Malachi Pearson and his mom are pissed after his teacher allegedly made a series of inappropriate comments foretelling his quietus. Here's what went down: Malachi, a black student at Rosehill Elementary in Lenexa (Kansas), was play-fighting with a fellow classmate when his teacher shoved him out the way before saying, "when you turn 16 and the police shoot you, the only person you can be mad at is yourself." The alleged comment brought Malachi to tears. "It's unbelievable that she would say that to my son," said Malachi's mom, Mahogany Foster. "I'm so vexed by the whole thing." The incident is being investigated by the school district.
Check back with Mass Appeal for updates.