Black Lightning star seeks new partner.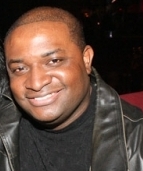 Blog King, Mass Appeal
LOS ANGELES — Nafessa Williams, the 28-year-old actress who portrays Anissa Pierce (aka Thunder) on the hit television series "Black Lightning," is seeking a collaboration with Supergirl, and it has everything to do with ladies sticking together. When asked about the prospects of crossing over to appear on other DC Comics shows, Nafessa didn't mince words. "I think it would be really cool to team up with Supergirl," she told Qweerist. "I'm all about female empowerment. Nothing's better than bad-ass women fighting crime, and I'd love to team up…"
Even though there's no plans on the table to make the union happen, don't rule it out. After all, Supergirl was featured in a late comic book episode of Black Lightning. Also, don't forget, both shows are featured on the same channel, the CW Television Network, so anything's possible, right?
Created by Salim and Mara Brock Akil, season one of Black Lightning (Cress Williams) chronicles the hero's street battle with murderous crime lord Tobias Whale, a drug-dealing albino with vile aspirations of hood domination. Tobias, who hates older black people, also leads a street gang called "The 100."
Supernatural talent certainly runs in Black Lightning's family. His daughters — Anissa and Jennifer (China Anne McClain) — possess extra-mundane abilities of their own.
Season one is now available on Netflix.
So, what do you think?
Are you in favor of a partnership?
Would Thunder and Supergirl make a good tandem?
Share your thoughts below.