The Rock thinkin' about president.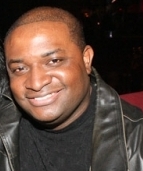 Blog King, Mass Appeal
LOS ANGELES — Dwayne "The Rock" Johnson could become your president in 2020! The muscle-bound thespian, who was recently voted People Magazine's 'Sexiest Man of the Year' (Blog King finished 2nd), divulged his White House interests while appearing on a recent episode of Jamie Foxx's Off Script. "I would consider running, yes," the 46-year-old actor admitted when pressed on the issue. "The most important thing I could do is consider it, and then we go to school. You got to learn. Because holding office, any level, local, state, federal, and then president of the United States, I treat that with such an amount of respect." 
.@TheRock says he'd want co-star @CharlizeAfrica to be his running mate if he ever ran for president https://t.co/4DAXMqJTW3

— INSIDER (@thisisinsider) July 13, 2018
The Rock ain't the only entertainer contemplating a presidential run. Word on the street claims Oprah Winfrey is harboring similar thoughts. Hell, many believe she's the Antichrist. We'll believe it when see walks on water. Just think… the next election could include a trio of TV personalities on the ballot.
We're talking Donald Trump, Dwayne Johnson and Oprah Winfrey.
Damn, who's next?
Eddie Murphy?
Vin Diesel?
Dave Chappelle?
When will the madness stop?
Can you stomach another celebrity in office?
Share your thoughts below.