Cedric and Niecy, Hollywood's best.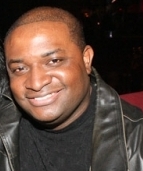 Blog King, Mass Appeal
LOS ANGELES — Corpulent comic Cedric the Entertainer is officially a star. The St. Louis native was recently honored with the 2,640th star on the Hollywood Walk of Fame. "Much Love to all of you, for your acknowledgement of me receiving a star on the Hollywood Walk of Fame…," Cedric tweeted. "Your support of my work throughout the years is a big reason why this day has come. Thank you! And I'm only getting started!" A member of the original "Kings of Comedy," Cedric became a household name in the 1990s with starring roles on "The Steve Harvey Show" and "Barbershop."
The 54-year-old thespian also starred alongside Lucy Liu in the 2007 action comedy "Code Name: The Cleaner." In addition to his onscreen achievements, Cedric has accomplished plenty in the community. His scholarship fund, concocted in 1996, has provided $200,000 to St. Louis area college students.
I've got to give it to this Guy, (he has been consistent). https://t.co/yMLtczrh6U

— RhythmRadio.USA (@RhythmRadioUSA) July 28, 2018
"People who don't have a voice, you give them a voice," said NBA legend Earvin "Magic" Johnson who addressed the crowd at Cedric's ceremony. "And you always support people no matter what their status is, no matter how much money they make, you use your platform to always uplift people."
Niecy Nash, a St. Louis native who played Cedric's wife in the TV Land sitcom "Soul Man," just received her Hollywood star too. Niecy, 48, is currently the lead actress in the TNT crime drama "Claws."
Congrats Cedric and Niecy!
Share your thoughts below.