Aretha Franklin exits as legend.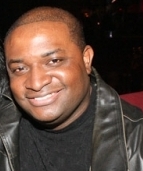 Blog King, Mass Appeal
DETROIT, Mich — R.E.S.P.E.C.T. Eddie Kane Jr., lead singer of the Five Heartbeats, once yelped "nights like this I wish raindrops would fall." And that's exactly how many of us feel after learning the quietus of legendary singer Aretha Franklin who passed away Thursday morning while encircled by family in her hometown of Detroit. She was 76. Cause of death is pancreatic cancer. Aretha will now rock the mic from that great big recording studio in the sky.
"Let's all take a moment to give thanks for the beautiful life of Aretha Franklin, the Queen of our souls," tweeted singer Paul McCartney. "She will be missed but the memory of her greatness… will live with us forever." Aretha married twice. Got divorced twice. And had 4 children.
Personally, I'm glad I got a chance to cover her recital several years ago at Kansas City's Kauffman Center for the Performing Arts. I remember Aretha giving scintillating quotes for my news article. But the publication's so superannuated, I'll have to do some serious digging to find it.
Anyway, let's confabulate on the Queen's illustrious legacy.
Born the daughter of a Memphis pastor in 1942, Aretha made a name for herself while performing in daddy's gospel choir following a family migration to the Motor City. Her vocals were so nonpareil, Columbia Records signed her to a lucrative deal in 1960. She was only 18 at the time.
Aretha, your music set a standard for every single lady in this industry to rise to. You have touched minds, hearts and spirits, including my own. I pray you have a smooth journey Ree Ree and hopefully I'll get to sing with you in the Heavenly choir. Love you #QueenOfSoul pic.twitter.com/Rrw6JjDtCg

— Gladys Knight (@MsGladysKnight) August 16, 2018
After spending 7 years on Columbia's label, Aretha discovered greener pastures with Atlantic Records — inking a new contract in 1967. That's when she concocted fabled hits "R.E.S.P.E.C.T." and "Natural Woman." The aforementioned tracks helped Aretha garner 18 Grammy Awards.
And, in 1987, she became the first woman to be inducted into the Rock 'n' Roll Hall of Fame.
Aretha, RIP babygirl.
Heaven just gained a new gospel singer.
Like Paul said, you'll be missed but not forgotten.
One more item of note… Aretha has an estate worth $80 million. She also has 4 kids and no will. There's no trust either. Now there's a good chance things could get contentious in probate court."I was after her for a number of years to do a trust," said Los Angeles attorney Don Wilson, who represented Aretha for 28 years. "It would have expedited things and kept them out of probate, and kept things private." Aretha's quartet of doddery whippersnappers — Clarence, 63, Edward, 61, Ted, 54, and Kecalf, 48 — filed documents Tuesday, listing themselves as interested parties of her unclaimed capital. Let's pray there's no wrangling and backstabbing during the impending allotment. After all, money is known to make an ass out of people. I say give each kid $20 million apiece in cash and tangible assets, then call it the day.
Hell… Aretha, 76, is damn near the same age as her kids.
They'll understand.
Share your thoughts below.