Empire season 5 ready to rumble.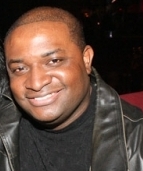 Blog King, Mass Appeal
CHICAGO — Renowned humorist Mark Twain once said, "It's not the size of the dog in the fight, it's the size of the fight in the dog." Season 5 of Empire is on the radar and all sigils indicate the most contemporary installment of the Fox musical drama will indeed be the show's most feral ever. Network officials just disclosed an awe-inspiring first look that shows bipolar label exec Andre Lyon (Trai Byers) serving time for the noxious murder of Anika "Boo Boo Kitty" Calhoun (Grace Gealey).
We may, however, have to check the back of milk cartons for Hakeem Lyon (Bryshere Y. Gray), Tiana Brown (Serayah) and Blake (Chet Hanks) because they're nowhere to be found. If you recall, during the season 4 finale, Blake's racist dad publicly confronted the trio with a gun and opened fire. Only stentorian screams could be heard as the scene faded to black – leaving us mired in suspense.
First look at #Empire Season 5 key art (EXCLUSIVE) pic.twitter.com/V0QZ1rOslt

— TV Guide (@TVGuide) August 14, 2018
Meanwhile, Lucious Lyon (Terrence Howard) and estranged wife Cookie (Taraji P. Henson) appear hellbent on reclaiming Empire's pecuniary throne after capitulating the company's intangible rights to longtime friend Eddie Barker (Forrest Whittaker). "You betrayed Empire," Lucious tells a conniving Eddie.
Cookie adds, "You always had a problem with keeping your paws out of the cookie jar."
Armed with meager resources and a diminutive budget, Lucious and Cookie appear to form a syndicate with homosexual son Jamal Lyon (Jussie Smollett) to "recreate magic from scratch" and start over.
Will the rebuilding project work?
Was Hakeem murdered?
Should Andre putrefy in prison?
Guess we'll find out when season 5 premieres Wednesday, September 26th on Fox.
Share your thoughts below.