Ex-Cosby Show actor opens up.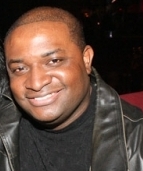 Blog King, Mass Appeal
NEW YORK — Donning his now famous Trader Joe's name tag, former Cosby Show actor Geoffrey Owens appeared on 'Good Morning America' on Tuesday to explain how the heck he fell from television stardom to baggin' groceries for $11 per hour — despite the fact he's both a Yale graduate and the son of a former U.S. Congressman. Geoffrey, if you recall, played Bill Cosby's handsome son-in-law Elvin Tibideaux — a thin, light-skinned doctor with curly, Al B. Sure-type hair.
In case you've been asleep the past few days, lesbian shopper Karma Lawrence spotted Geoffrey working as a cashier at Trader Joe's in New Jersey. The 57-year-old thespian was wearing a dirty uniform with food stains on his shirt. Rather than let Geoffrey earn an honest living in obscurity, Karma snuck a photo while he was baggin' her groceries then conveyed it to dirt-seeking tabloids.
An embarrassed Geoffrey quit his job the next day.
Geoffrey Owens joins @tylerperry's 'The Haves and the Have Nots' https://t.co/8tgzc7dVIw pic.twitter.com/ErQFu2XtEk

— Hollywood Reporter (@THR) September 7, 2018
"I don't know why I snuck a picture," said a regretful Karma, 50. "I figured everybody does it. I don't know what possessed me. I just kind of did it on impulse and it was a bad impulse. It wasn't malicious. I'm not the monster they're making me out to be."
Geoffrey admitted he was devastated at first.
"My wife and I were together when we saw (the photo)," Geoffrey told People Magazine.
"It made me think of my son. I texted my son and warned him about the story breaking. I actually apologized to him for embarrassing him, because I knew that he's in school away from us. I knew his classmates would see it and he'd be humiliated and embarrassed. I apologized to him."
But, after awhile, Geoffrey said screw it.
There's nothing to be ashamed of.
"There is no job that is better than another job," Geoffrey told Good Morning America. "It might pay better, it might have better benefits, it might look better on a resume and on paper, but actually it's not better. Every job is worthwhile and valuable."
Speaking of jobs… Geoffrey reportedly signed a deal with Tyler Perry to appear in 10 episodes of the hit OWN television drama "The Have and the Have Nots." He will also appear on 'NCIS: New Orleans' this fall.
Geoffrey said fans and media have treated him like a rock star since the infamous Labor Day photo leak.
He's also getting more attention now than he garnered during his TV heyday in the '80s.
Damn, how fortunes can change?
One day you're a laughingstock sackin' canned goods.
The next day you're working alongside Oprah and Tyler.
Like Don King said: "Only in America!"
"I feel like I'm more of a celebrity now then I've ever been," Geoffrey said.
"I'm more of a celebrity now then when I was actually a celebrity."
Share your thoughts below.