BET's Bobby Brown Story off the chain.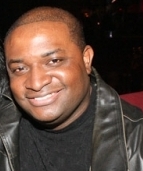 Blog King, Mass Appeal
ATLANTA — Got a chance to observe BET's "The Bobby Brown Story" starring Woody McClain the other night and, hate to say it but, Bobby's life is jacked up. Prior to watching the mini-series, many of us had no idea the "Don't Be Cruel" singer banged Janet Jackson's boujee ass. We also found it unfathomable that Whitney Houston got Bobby addicted to cocaine. For years, we assumed it was the other way around. Then there's the issue of sex. Like many preeminent celebrities, Bobby had difficulty controlling his penis.
For instance… while recording music for the Ghostbusters 2 soundtrack, an inebriated Bobby banged his backup singers on the set as his managers watched in merriment. Not in a hotel room. Not in a restroom. On the set! Bobby also impregnated Whitney and his baby mama simultaneously.
As much as many of us enjoyed the biopic, not everybody's a fan.
Did Bobby Brown date Janet Jackson? New miniseries allegations SHOCK Twitter (via @toofab)https://t.co/75n4zFFwXs

— TMZ (@TMZ) September 5, 2018
Bobby's sister — Leolah Brown Muhammad — slammed her brother's current wife, Alicia Etheredge-Brown on Facebook. "THE FAKEST MOVIE I EVER SEEN!" Leolah wrote. "THAT IS NOT ALICIA! PALEEEEEEEEEZ! SPARE ME THAT LAUGH! SUCH A LIAR! I'M WONDERING WHAT IS THE MOTIVE FOR ALL THIS? I READ WELL THOUGH…AND TRUST I'M NOT DUMB!"
"BOBBY WHY DID YOU LET ALICIA LIE LIKE THAT IN THAT MOVIE AND SAY SHE WELCOMED YOUR WHOLE FAMILY INTO HER LIFE!!!??? AND THIS BITCH LITERALLY WITHOUT A LITTLE EXAGGERATION HATES FOR ABSOLUTELY NO REASON EVERY SINGLE PERSON THAT CARRIES YOUR BLOOD!!!???"
Janet also slammed the movie, claiming Bobby exaggerated the truth relative to them sleeping together.
If you haven't watched the series, it's currently available via OnDemand. There is, however, a caveat. You better get used to hearing these 3 words: "Bobby, I'm pregnant." Because that's half the movie. The other half is comprised of contractual squabbling between Bobby and his management team.
Share your thoughts below.